With an invitation to visit Sara Radamaker's Elver Lab at the Darling Marine Center, students learned of the innovative business model Sara is developing to create new aquaculture opportunities for people in Maine.  The elver season is in swing and is the most lucrative fisheries, pound for pound of any of the commercial species "fished" in Maine.  Maine is one of only two states that sustainably harvest very young American eels, otherwise known as elvers.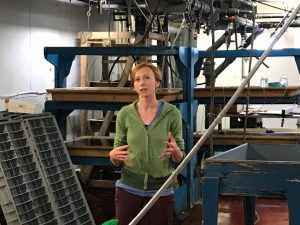 Our marsh is home to a healthy elver run that is harvested and students can know that the marsh is vital habitat for elvers as well as for many, many species of wildlife, and serves an ecological function to connect the land and sea.
Students toured Sara's lab, and also Charlie Walsh's oyster aquaculture lab, and met two grad students who described their research to reliably age lobsters and to collect lobster larvae settlement data with which to monitor population trends several years down the road.